Brown Paper Tickets Ticket Widget Loading...

Click Here to visit the Brown Paper Tickets event page.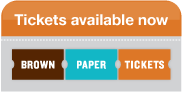 METROPOLITAN OPERAS
an evening of short plays by Joe Pintauro
Witchboy Theatre is proud to present a selection of eight short plays from Joe Pintauro's beloved and critically acclaimed collection of one-acts.

Tickets can also be purchased an hour before show time at The Theatre Machine.